Belleville, Paris & The Loft
Belleville is an eclectic neighborhood with a real village feel situated at the corners of four of Paris' arrondissements (the 10th, 11th, 19th and 20th). Belleville is bursting with traditional brasseries, alternative cafés, ethnic restaurants, artists' ateliers, quirky boutiques and cheap junk shops – in short : branché and affordable. The charming gardens of Parc de Belleville serve as a group meeting place before heading to a lecture, dance class, field trip or performance, and is the perfect spot to enjoy a picnic while taking in the prized view of the city. Within an easy walk are the roaming Parc des Buttes Chaumont, the legendary Père Lachaise cemetary, the Jourdain and Gambetta squares with their boutiques and cinemas, and several weekly produce markets.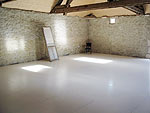 There are a variety of dance studios in the neighbourhood, including the Ménagerie de Verre, Studio Canal Danse, Studio Regard du Cygne and the Centre Momboye. Most other Paris landmarks are only a short trip away on the métro or bus. With the number 11 métro or 96 bus, it's a mere 10 minutes to Place de la République, Canal St. Martin, La Bastille, the Centre Pompidou, Notre Dame, Châtelet, Sainte-Chapelle, Quartier Latin, …
At the foot of the Parc de Belleville is
The Loft
, a cozy, friendly new hotel-hostel that MADE in France students will call home for their days in Paris. At the
The Loft
breakfast is provided and students have free acces to a kitchen. Bedding and towels are included. Wi-fi
Lalacelle, Normandy & Le Tapis Vert
Nestled in the Parc Naturel de Normandie, 20km from Alençon, Le Tapis Vert (The Green Carpet) a 19th-century hunting retreat of the Mirabeau family now serves year-round as a retreat for musicians, dancers, theater and circus artists. The vast private property, with both open and wooded areas, is dotted with historic buildings: the châlet, the écurie, the former hunting lodge, the grange, all which have been converted into workshops, studios and living spaces.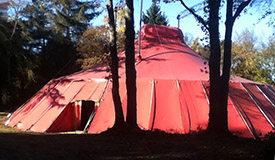 Le Tapis Vert is designed for creative learning and cultural exchange, providing an immersion experience of the artist's life in France and an ideal setting for concentrated study and personal artistic development. The excellent facilities include a 100m2 dance studio with hard-wood floor, a 60m2 lofted music rehearsal room, a circus tent that can welcome an audience of up to 400, and a design shop for costume construction known as "the ballroom". There are indoor and outdoor lounge areas, an open kitchen, one with grand piano, as well as student kitchens and an outdoor deck for morning yoga. Surrounded by forests, rivers and brooks, as well as farmland Le Tapis Vert and its environs have been classified as a Natural Zone of Ecological Interest for Flora and Fauna.
At Le Tapis Vert all meals are provided. The chefs use organic, local produce, and all food is GMO-free. Vegetarians can be accommodated. The Tapis Vert student-faculty lounge has an independent kitchen, and a snack table with water, dried fruit, nuts, and local organic fruit available at all times. Bedding and towels as well as laundry facilities are provided. Wi-fi is free.